10 Office Christmas Party Themes
Christmas Party themes are really fun; they can turn a simple meal and disco into a night to remember. We love theming our Christmas Party nights and we cannot wait until we are choosing yet another wonderful theme for our Christmas party nights. For ideas on what theme you should indulge in this year, we have listed 10 of our favourites!
1.Ugly Jumper Theme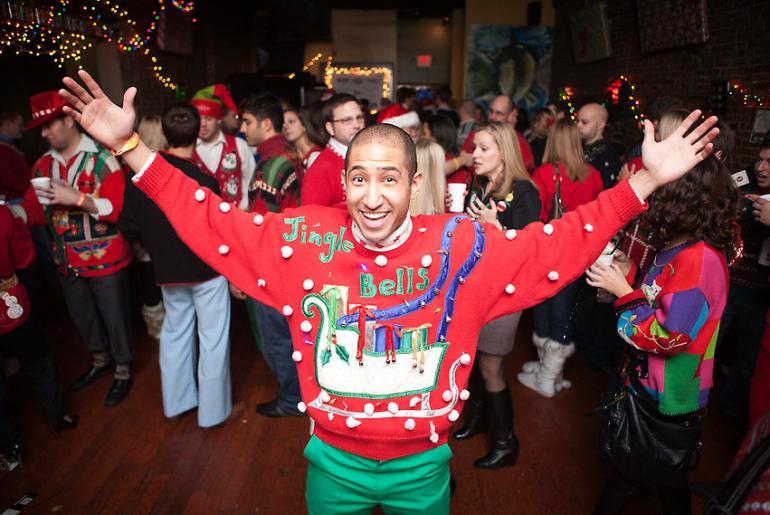 This will work best for a smaller Christmas party, this is a fun and light hearted way to spice up the mood of your Christmas Party, let all of your guests know that the idea is to wear a terrible Christmas jumper to the Christmas party and see how many terrible Christmas jumpers there really are. And of course, before the end of the night, an entertaining idea is to announce the worst Christmas jumper of the night and present them with a prize, a ugly hat to match perhaps?
2.MOVIE STARS THEME
This is the theme we have decided to go for this year at our Moonlight & Mistletoe Christmas parties, because who doesn't want to spend Christmas in Hollywood? We have all-star impressionists at our events, and also a Pirate of the Carrabin style fire show, with entertainment throughout!
3.Casino Royale Theme
Talking about dressing to impress, the Casino Royale theme is such an awesome Christmas theme! This really does give both men and women the chance to get their favourite cocktail dress on or tailored suite and bet all on reds for a Christmas treat! And the décor for a night like this is endless, golden palm trees, casino dice, casino signs, roulette, slots, poker tables; the night could be jam packed the entertainment.
4.Fire & Ice Theme
This theme is another favourite because of its fantastic décor and entertainment ideas, ice sculptures (real or fake), fire eaters, flame torches, these are all so fantastic in a grand hall; your guests will be stuck for words! Dry ice machines, roaring flames at the bar and professionally opposing lighting can really create a spectacular atmosphere.
5.Alice & Wonderland Theme
A typical Christmas theme, but a very strange one, and that's why we love it so much, have yourself your very own Mad Hatter tea party and introduce your guests to the Queen of Hearts. We love this theme as you can create some vivid décor and of course some 'drink me' potions or a 'eat me' cupcakes.
6.Masquerade Theme

We really do love the idea of all of our guests having masks, the secrecy and atmosphere would really create a night to remember. A Masquerade ball is a very popular Christmas Party theme because everybody loves an excuse to dress up, right?
7.Snow White's Enchanted Forest Theme
An enchanted forest has the potential to be beautiful, winter trees with twinkling fairy lights, characters in the shadows, magical entertainers and the idea of being in the Snow White movie yourself is beautifully satisfying and would make the perfect Christmas party.
8.A Night at the Circus Theme
Of course we had to put this in our favourite, this had been a previous theme at our Moonlight & Mistletoe Christmas Parties, and we just loved it, acrobats, fire eaters, stilt walkers, it is amazing for the entertainment aspect and really create a night to remember.
9.WINTER FAIRY TALE THEME
This theme can be absolutely beautiful when it is done right; the winter fairy tale theme is one of our favourites because of its sparkles and the fact that we can dress up in all the glitter we want to and still fit in. This is a night to really dress to impress. Snow, ice and fairy tale characters can really bring this theme together.
10. Santa's Grotto Theme
Everybody loves snow, right? Especially when it is fake and inside a warm venue…ah, sounds like heaven. This is of course the most typical of all Christmas Party themes, but you can't beat a good grotto in December, and with the perfect Christmas meal and traditional music, this can really get you in the mood for Christmas.
These themes may seem extravagant, but even the smallest Christmas parties can indulge in a little decoration. For help planning or for a Christmas party that has been done for you, contact us and we can take some of the stress that comes with planning a Christmas party away from you.